---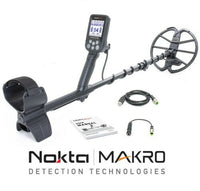 THE NOKTA SIMPLEX METAL DETECTOR IS THE FIRST WATERPROOF DETECTOR ON THE MARKET OFFERING EXTREME DEPTH AND HIGH-END FEATURES AT AN ENTRY-LEVEL PRICE!
WHAT'S IN THE BOX:
NOKTA SIMPLEX METAL DETECTOR
NOKTA WATERPROOF DD 11' SEARCH COIL
USB CHARGING CABLE
1/4" HEADPHONE ADAPTER
USER MANUAL
SIMPLE ENOUGH FOR BEGINNERS, YET IMPRESSIVE ENOUGH FOR EXPERTS!
Fully submersible up to 3 meters (10 ft) and protected from total dust ingress. Iron Volume
Turns off or adjusts the volume of the low iron tone. Notch Discrimination
Discriminates Target IDs of unwanted metals. Search Modes
All Metal / Field / Park / Beach
Built-in Wireless Module
SIMPLEX+ will vibrate upon detection of target! Ideal for the hearing impaired users as well as for detection underwater. Frequency Shift
Get rid of EMI easily by shifting the frequency in small increments. Fabulous Lighting for Night & Underwater Use
SIMPLEX+ has it all - LCD Backlight, Keypad Backlight and LED Flashlight.
Retractable Shaft
Shaft retracts down to 63 cm (25"). Great for easy transport, storage as well as diving! Lightweight (1.3kg / 2.9Ibs)
Well balanced - Enjoy detecting for extended hours without fatigue. Built-in Lipo Battery
Easily charge it with the supplied charger or a USB powerbank. Online Firmware Updates
Stay up-to-date with firmware updates (via USB on PC) and get the most out of your detector.